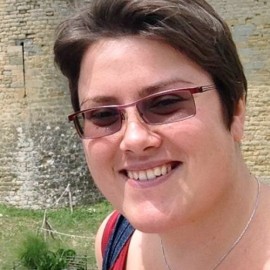 Anaïs Martin
Communication Coordinator of the VÉgA Project - PhD in Egyptology, Paul-Valéry Montpellier 3 University
labex
Born in 1986. Ph.D. Thesis defended in 2013 : Le corps en Égypte ancienne. Enquête lexicale et anthropologique (under the supervision of Prof. Fr. Servajean, ASM-ENIM)

Since septembre 2015, scientific collaborator within LabEx ARCHIMEDE, VÉgA technologic program.
Member of the ENiM journal editorial board.
Bibliography
« L'embaumeur est-il "out" ? », ENIM 5, 2012, p. 195-213.
« Ciel ma momie ! Momification et cycles célestes dans le Rituel de l'Embaumement (P. Boulaq III) », dans L. Deguara, J.-P. Sénac, Fr. Servajean (éd.), Actes du colloque Égypte ancienne : rites funéraires. Société Archéologique de Montpellier, Musée Languedocien, Montpellier, 14 novembre 2014, Montpellier, 2014, p. 23-31.