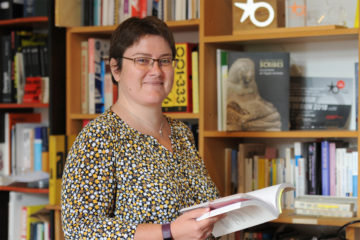 Anaïs Martin
PhD in Egyptology, Paul-Valéry Montpellier 3 University - Scientific Manager in Digital Humanities
labex
Born in 1986. Ph.D. Thesis defended in 2013 : Le corps en Égypte ancienne. Enquête lexicale et anthropologique (under the supervision of Prof. Fr. Servajean, ASM-ENIM).

From September 2015 to September 2020, Scientific Collaborator within LabEx ARCHIMEDE, VÉgA technologic program, and communication manager.
Since January 2021, Scientific Manager in Digital Humanities for intactile DESIGN.
Member of the ENiM journal editorial board.
Bibliography
2014
« Ciel ma momie ! Momification et cycles célestes dans le Rituel de l'Embaumement (P. Boulaq III) », dans L. Deguara, J.-P. Sénac, Fr. Servajean (éd.), Actes du colloque Égypte ancienne : rites funéraires. Société Archéologique de Montpellier, Musée Languedocien, Montpellier, 14 novembre 2014, Montpellier, 2014, p. 23-31.
2012
« L'embaumeur est-il "out" ? », ENIM 5, 2012, p. 195-213.